Are you ready to take your business strategy to the next level? Then read 'Your Next Five Moves' by Patrick Bet-David. In this insightful book, Bet-David, a successful entrepreneur and CEO, shares his expertise on mastering the art of business strategy. He offers practical advice and strategic principles that can transform the way you approach your professional endeavours.
'Your Next Five Moves' takes you on a journey through the complicated world of strategic thinking and decision-making. Bet-David emphasises the importance of understanding your competitive landscape, analysing opportunities and making calculated moves that can give you an advantage. And reveals valuable insights into leveraging your strengths to stay ahead of your competition. 
It offers a wealth of practical strategies and ideas that can help you make informed decisions. An indispensable guide for anyone looking to improve their business strategy.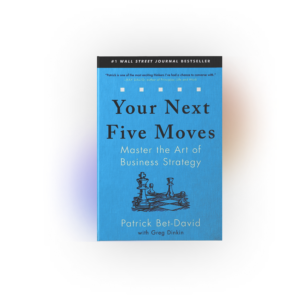 Ready for next level product development?
Let's create a digital product that end users and business stakeholders will love and that is also future-proof, scalable, secure and easy to maintain.