The importance of Product Discovery
When you start working on a new product, it is very important to know exactly what problem your product will solve for your end-users and/or customers. And no less important; how this aligns with your company's objectives. Product Discovery is therefore an essential part of a Product Manager's work, although the concept of Product Discovery is still often misunderstood. In this article, we take a closer look at it.
IN DIT ARTIKEL
The importance of Product Discovery
Dual-Track Agile
Whitepaper: Agile product development
Problem Space and Solution Space
Product Discovery Workshop
The Lean Product Playbook
"The first truth is that at least half of your ideas are just not going to work"
The importance of Product Discovery
According to Product Coach Paweł Huryna, at least half of your ideas will not work because with every idea, five risks can arise:
Value. Will the product create value for customers?
Usability. Will users know how to use the product?
Viability. Can the product support our business?
Feasibility. Can the product be made (technology)?
Ethics. Do we need to create the product? Are there ethical considerations?
By applying the Agile methode, you are able to divide the entire product development process into small projects, also known as sprints. Each of these projects includes analysis, planning, task allocation, design, testing and documentation. Always keep asking yourself; "are we building the right product?" and, "is the customer waiting for this?". It allows you to deliver value faster and adjust direction along the way.
Download whitepaper (in Dutch): Agile productontwikkeling en Lean Start-up
Dual-Track Agile
But still it turns out that, unfortunately, most ideas don't work. Jeff Patton, Marty Cagan, and others working in the Agile/product area, therefore came up with a different approach. They strongly advocate the Dual-Track Agile approach.
In this approach, there are two 'tracks' running in parallel and this significantly reduces waste and duplication in Product Delivery:
The goal of Product Discovery is to discover the product to be built.
The goal of Product Delivery is to bring that product to market.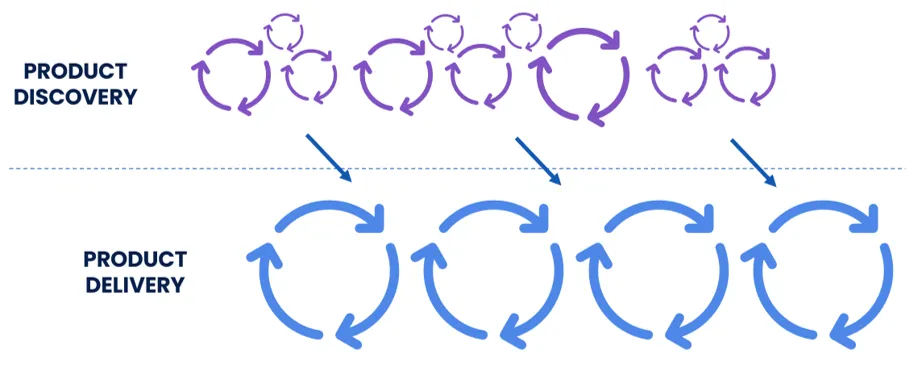 Image via The Product Compass, Paweł Huryn.
What's included in Product Discovery?
You can divide Product Discovery into two focus areas: the Problem Space on the one hand and the Solution Space on the other:
Problem Space
Conducting customer interviews (e.g. weekly, as defined by Teresa Torres).
Learning from usage analysis (collecting and analysing data on how users interact with a product or service, e.g. Pendo.io).
Learning data analysis (analysing large data sets to discover trends, patterns and relationships, e.g. Microsoft Power BI).
Using other tools: customer surveys, market trends and benchmarking.
Mapping opportunities (e.g. Opportunity Solution Tree, as defined by Teresa Torres).
Solution Space
Explore possible solutions to the problems (ideas).
Formulate testable assumptions regarding those ideas.
Conduct experiments to prove or disprove those assumptions.
Paweł Huryn also states that Product Discovery results in a validated Product Backlog. In particular, high-risk assumptions are tested before implementation. He gives some more tips for this.
Tips
Product Discovery is not a task for one person. The Product Trio (Product Manager, Designer, and at least one Engineer) carries out Product Discovery together. All these perspectives are needed.
You need to prioritise opportunities, not ideas.
A good way to generate assumptions is to use Use Story Map (a method where your sticky notes are used to outline the interactions the team expects users to go through to achieve their goals in a digital product).
You should only test risky assumptions.
Product Discovery workshop
The starting point for every new project at GlobalOrange is a two day Product Discovery Workshop. Together with our experts in User Experience Design, Product Management and Technology, your vision and goals are mapped out as clearly as possible and related to the 'unmet needs' of the end users. The results of the Product Discovery Workshop are as follows: insight into the 'business problems' we are trying to solve, users' needs and benefits, benefits for your company, critical solution success factors, possible solution ideas, key user journey(s) defined and a project plan for development. As an added benefit, both parties experienced the collaboration at speed. Thus ensuring ourselves of a perfect start.
The Lean Product Playbook by Dan Olsen
Nog meer weten over Product Discovery? Dan Olsen, schrijver van The Lean Product Playbook, deelt in onderstaande talk gedetailleerde tips en trucs deelt uit zijn boek:
Ready for next level product development?
Let's create a digital product that end users and business stakeholders will love and that is also future-proof, scalable, secure and easy to maintain.