Being successful in today's economy
Companies must continually innovate to be successful in a lasting way in today's economy. But what is the best way for organizations to quickly, efficiently and successfully bring new products or services to market?
Eric Ries explains it in his book The Lean Startup. Released in 2011, Eric Ries' book revolutionized organizations and is still highly relevant more than 10 years later. Lean Startup is an innovation method for developing products. services and business models. It offers a different perspective on strategy and new way of doing business quickly and effectively.
What is a prototype?
As we wrote in previous blog posts, gathering feedback from users is perhaps the most important thing you can do to further shape your product. During the development of your product, you will need to validate hypotheses or assumptions. It is perhaps best to think of a prototype as an example, a taste of what your product could be like. However, it is not how a prototype grows into a mature product. Both products can be used to test a hypothesis.
What is an MVP again?
A comprehensive definition of a minimum viable product (MVP) can be found here. But in short, an MVP is the simplest version of your product that allows you to actually provide value to your user and satisfy and engage them. Building a simple but well-functioning version of your final product ensures that you can quickly go live and start doing business.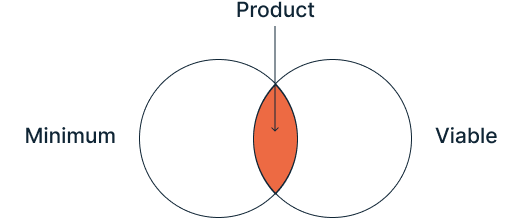 How does an MVP differ from a Prototype?
A prototype is about presentation towards stakeholders and testing processes and concepts. An MVP can do this too but is also a good technique to realise a product. It is a first iteration of your product should be good enough to solve a problem for your users. It should be ready to use and effective. Good enough to generate immediate sales from a smaller group of early adopters. Indeed, your MVP should be so good that this group of early adopters become ambassadors of your product.
Prototypes are never used in a product; an MVP, on the other hand, is…
Benefits of an MVP:
Launch product in the market as soon as possible
Generate sales immediately
Start collecting feedback immediately
Basis for possible other products
Effective use of development hours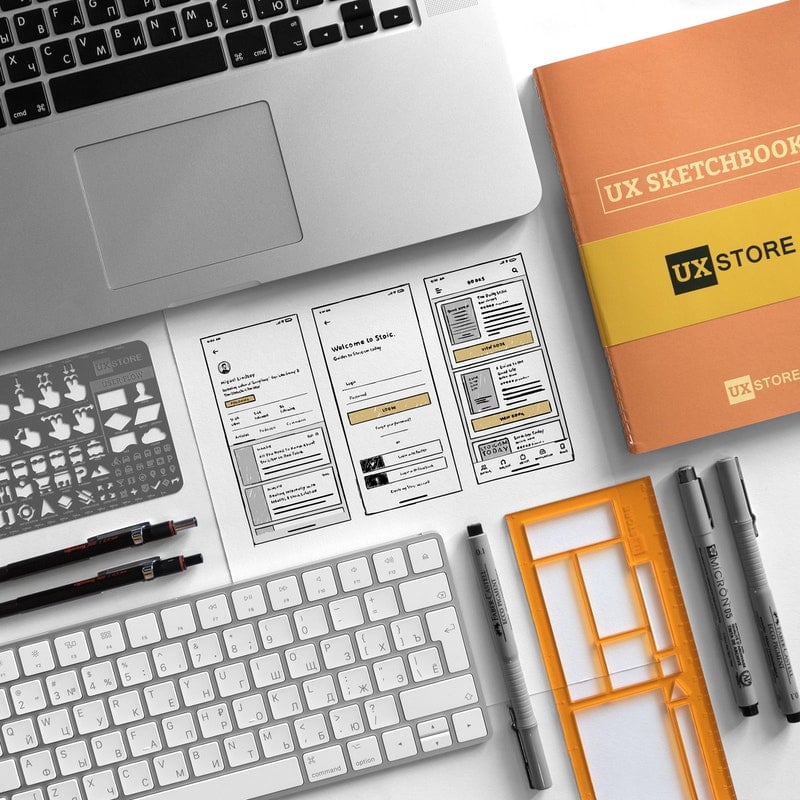 Concrete differences between an MVP and a Prototype:
An MVP is actual realisation of a first version of a product. A prototype tests the feasibility of a concept.
A prototype serves for as a presentation to stakeholders, an MVP is developed to generate sales and learn a lot from early adopters.
A prototype is a mock-up, often in the form of videos, a clickable or a presentation. An MVP is ready to be launched.
A prototype demonstrates promised value, an MVP delivers tangible value.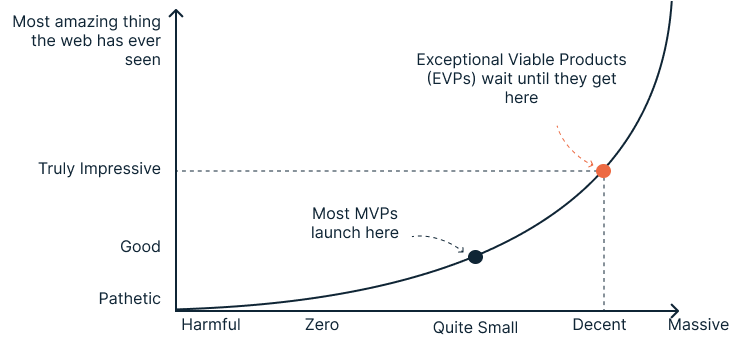 Get our white paper MVP development (Ductch)
| | | |
| --- | --- | --- |
| | Prototype | MVP |
| Goal | Test the feasibility of a concept or proof of concept | Maximum learning, gathering feedback and realisation first version product |
| Focus | Presentation to stakeholders | Fast development of valuable product |
| Features | Features that may not make it into the final product | Basic functionality to create maximum value |
| Developed for | Small audience, testers and stakeholders | Early adopters |
| Legacy | Removed after testing | First iteration product |
| Feedback sought on | Product, concept or idea | First version of working product (1) |
| Includes | Mock-up, videos or presentation | First version of working product (2) |
| Value | Demonstrates promised value | Delivers tangible value |
| Developed when | Business case not proven / risks unknown | Business case proven / risks acceptable |
| Testing | Needs in market | Solution provided |
| Turnover | Needs in market | Turnover of early adopters |
A new, innovative application does not come out of the blue. Earlier, we wrote about how the principles of Lean Manufacturing can be deployed. Now we dive a little deeper into that. From problem to product, how does GlobalOrange ensure successful software development?
KEY LEARNING POINTS
7 Principles when developing digital products
Agile-scrum methodology within GlobalOrange projects
The 7 principles
AVOID WASTE

Don't spend time on unnecessary work by focusing purely on the most valuable aspects of the project.

Define basic workflows in advance
Define clear and stable specifications
Design and brainstorm before planning your project
Make sure your 'user stories' are ready before the start of the first sprint
Small project? Small team!
Choose an MVP for the first iterations of your project
Define achievable goals
Avoid swapping tasks among team members
BUILD QUALITY DIRECTLY INTO YOUR PRODUCT

Instead of looking for 'bugs' or possible errors after developing your software product, optimise the development process so that it creates fewer or no errors. This saves time and work.

Prevent hacks and other 'wood/rope solutions'
Facilitate code reviews
Start quality checks immediately
Have developers work in pairs
Fix bugs immediately
TRANSFER 'POWER' TO THE TEAM

Create an environment where each team member can contribute his or her maximum potential. Provide a free environment where each team member dares to speak up and where team spirit can grow.

Respect your team members
React quickly
Listen carefully
Empathise
Be assertive
Empower your team members
Challenge each other
POSTPONE COMMITMENT

The later you make important decisions, the more information you have to make that decision.

Decide as late as possible
Keep as many options open as possible
CREATE KNOWLEDGE

Building and increasing available knowledge increases long-term productivity and makes teams more flexible.

Create sufficient documentation
Ensure knowledge sharing
OPTIMISE THE WHOLE

Constantly look for opportunities to optimise value addition. Take a step back and look at the situation as a whole.

Look back sufficiently
Learn from other projects
Implement changes immediately
DELIVER QUICKLY

Ensure quick delivery of software products to gather feedback as soon as possible.

Define 'Red Routes' in advance
Define basic workflows before starting the project
Start with an MVP
Define a 'Happy Flow'
Keep. It. Simple.
Download the 7 principles factsheet (Dutch)
Higher quality, lower costs
The founders of Lean Software Development, Tom en Mary Poppendieck, apply 7 principles in software development. Their application helps organisations develop software faster, with higher quality and at lower cost.
Successful projects
In our factsheet, you will read what these principles are and how GlobalOrange uses them in combination with the agile-scrum development methodology to execute our projects as successfully as possible.
Successful Corporate Innovation
Corporate Innovation is more important than ever. An innovation lab brings innovative technologies and solutions to your company by uniting knowledge, skills and network. The Corporate Startup tells you how. In a successful innovation lab, people from different parts of your organisation work together. These different parts of an organisation often create value for your customers and users in their own way. The presence of people from these different parts ensures synergy and maximum value created.
In a successfully functioning innovation lab:
Is enough space to form creative ideas
Are ideas validated
Are ideas transformed into profitable products
This implies that your organisation must be set up in such a way that ideas can emerge and be exploited. In The Corporate Startup, you will read about the elements that influence how organisations manage challenges around innovation. It describes five elements that contribute to developing a successful corporate innovation ecosystem. The innovation thesis, the innovation portfolio, the innovation framework, innovation accounting and innovation methods.